Datum: zaterdag 25 augustus
Aanvang: 21:00
Entree: Gratis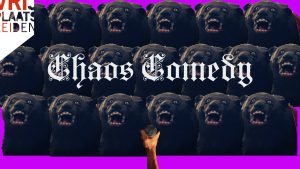 FREE ENTRY – FREE COMEDY – FREE SPEECH
I know what you are thinking. Chaos Comedy? Again? How could it get weirder than last time?
Oh it's gonna get weird…
Stand-up comedians! Really good ones! Some drunk ones too. Probably a few inexperienced ones that make it really awkward for everybody and then you laugh for the wrong reasons to break the tension. And then some good ones again!
Are you a smartass that wants a microphone? Come tell jokes. We will give you free beer. Even if you suck!
Are you an audience person who likes comedy and sitting in a chair? Come in for FREE ENTRY. Vrijplaats has very cheap drinks.
Does it burn when you pee? Come watch comedy. I don't think it will help your pee thing, but you should come see the show. Please see a doctor beforehand though.
—
OPGELET! Vrijplaats Leiden staat vanaf 7 juli in zomermodus…
De Vrijplaats heeft gedurende de zomer een aangepaste programmering. Op die manier kunnen onze vrijwilligers even op adem komen én kunnen we volop doorbouwen aan de Vrijplaats. Vanaf 7 juli zal de zaal op vrijdag gesloten zijn en beginnen we op zaterdagen pas om 21:00 uur met het avondprogramma. Vanaf 1 september zijn de vrijdagprogrammering en 't eetcafé weer terug!
Wil je tijdens je vakantie helpen met de bouw? Stuur een mail naar vrijwilliger@vrijplaatsleiden.nl